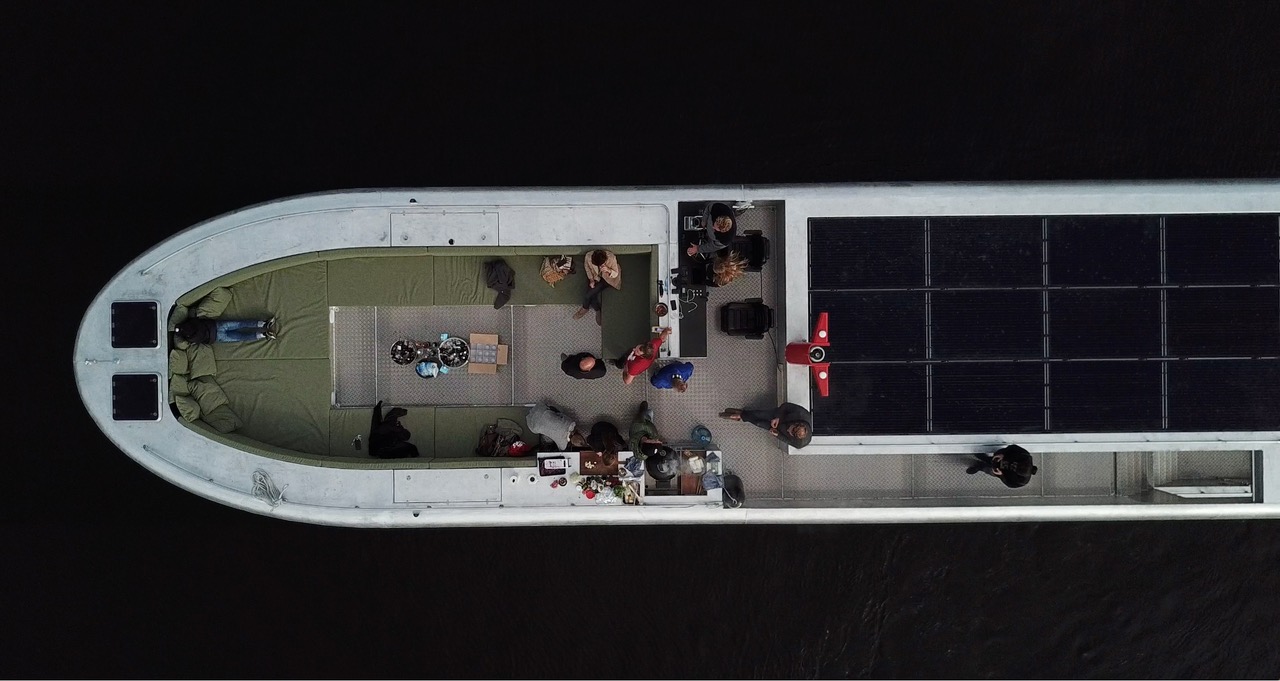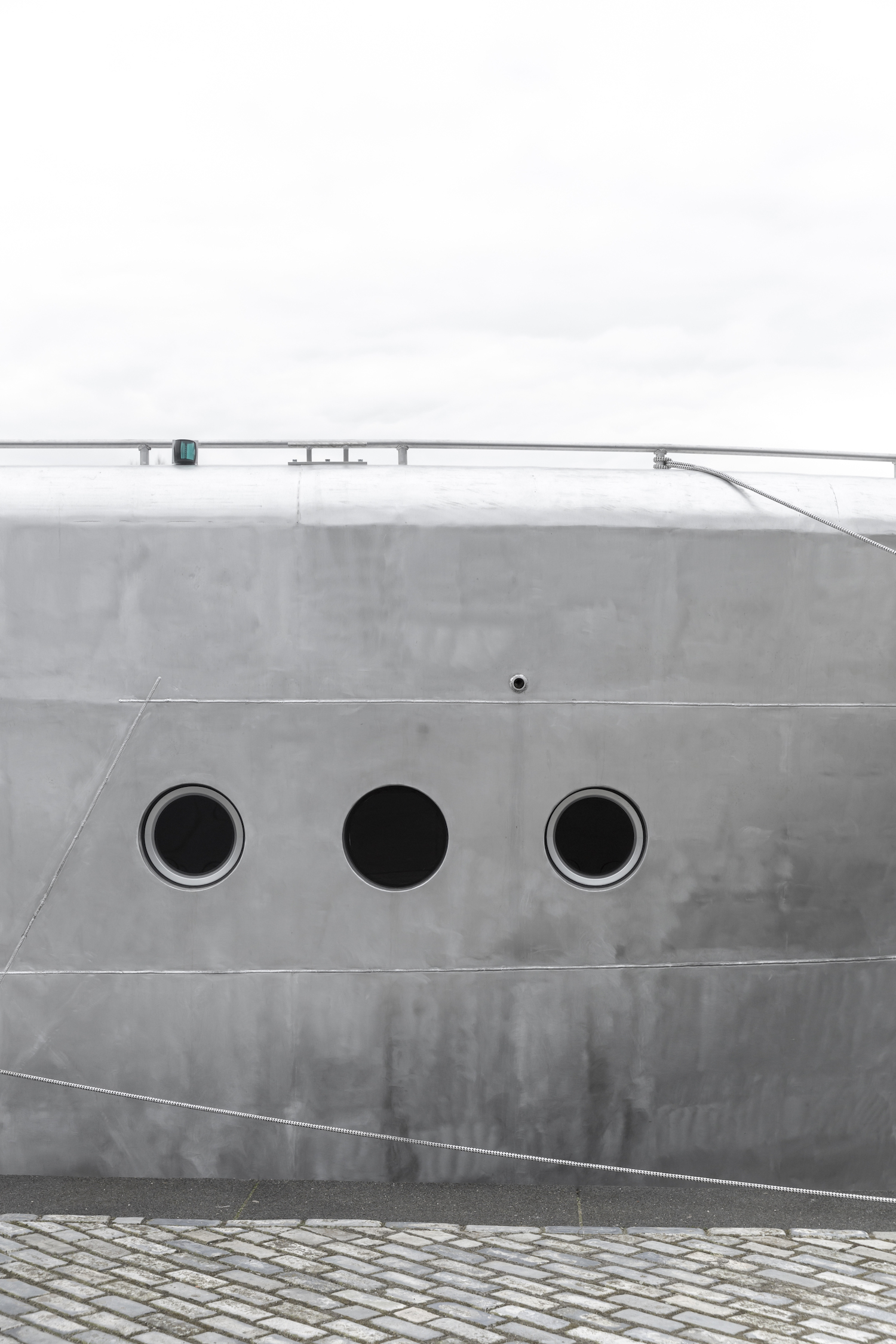 MArine cabin Stockholm
Before designing and building cabins we also ventured into shipbuilding. 10 years ago we built our first ship (and home) Qrooz. With this ship we won the Dutch Design Award. It was time to make a perfect combination of the cabins and the ship. We just finished building it…our first marine cabin! In April 2019 we set sail to Stockholm. It's possible to rent the ship starting 13 May 2019.
The marine cabin has a unique design. A luxurious getaway where you'll feel at home at once. Huge windows provide panoramic views. The full blown kitchen and huge table long for dinner parties. The light swinging of the ship provides for perfect sleeping. And on top of that a unique rooftop terrace on which you can enjoy a lazy afternoon. The ship has its base in the Bockholmen Marina in Stockholm, a beautiful location with fantastic views of the Stockholm Archipelago and closeby the city centre.
spacious aluminium ship, 20m long & 5m wide

as comfortable as a home with all year round accommodation

the cabin has a heat pump for floor heating and warm water, solar panels for electricity and its own wastewater treatment system

60m2 living space, an aft terrace of 20m2 and a 40m2 upper sundeck with a huge lounge area, built-in ceramic egg for outdoor cooking and bluetooth hifi system

fully equipped kitchen with Miele appliances (dishwasher, refrigerator/freezer, oven, induction cooking) and Nespresso-coffeemachine

dining area for 12 people

lounge area with wood burner and blue tooth hifi system

the ship has 2 family rooms. Each bedroom has a built-in double bed (1.80 wide x 2.00m long) and a large bunkbed (1.90 wide at the broadest part x 2.10 long) for 2 kids up to 16 yrs old or one adult

the beds have Emma mattresses and anti-allergic quilts and pillows by Auping

luxurious bathroom with rainshower and delicious LA:BRUKET soap

Note: it is not allowed to drive the ship yourself. If you wish to make a tour we can arrange a skilled skipper for you
RATES
the rental price is 275 Euros per night based on a stay of 4 persons. In high season the rental price is 400 Euros per night based on a stay of 4 persons

if you stay with more than 4 persons you'll pay an extra charge of 25 Euros per person per night for the 5th-8th person

minimum stay during the weekends is 3 nights (Fri-Mon), during the week 2 nights (Mon-Wed, Wed-Fri).

final cleaning is obligatory and is 125 Euros per stay

babies up to 1 years old stay for free. Please bring your own baby cot and bedding for the baby. Note that it is only possible to place a basket or crib on the upper bed, not on the floor

if you bring your dog (max. 1 dog), the extra charge is 25 Euros per stay

your stay includes bath- and bedlinnen, firewood, Nespresso cups, tea, basic household supply, delicious LA:BRUKET soap.
More information on the marine cabin, high season and the cancellation policy you'll find in INFO.
BREAKFAST / LUNCH / DINNER / CHEF ON BOARD / MEETINGS / WATERTAXI / CRUISE
Our friends Linda and Linus will take care of the ship in Stockholm. Linda is our favourite chef, we absolutely love her cooking! Her style is Swedish with a modern twist and everything is homemade. It is possible to book packages along with your stay: daily breakfast, sweet treats, night snacks, picknick lunch, a ready-to-cook dinner upon your arrival or your own private 'chef-on-board' where Linda will come onboard and cook for you. It is also possible to rent the ship for meetings or a dinner party for up to 12 people.
Linus can offer you a tour of the Archipelago with his watertaxi or arrange for a cruise with the Marine Cabin with a skilled captain. We can also relocate the ship to your preferred spot. Prices on request.
More info on the packages and prices you can find HERE.
Upon booking your stay you can book the packages you'd prefer or you can contact us for an offer. The packages are also available on Moja. If you have any questions you can reach us at info@getawaydeluxe.se or +46(0)708203436.
MOORING
The ship has its base in Bockholmen Marina in Stockholm. A tiny marina on the island Bockholmen that is connected to the mainland via a bridge. The island offers fantastic views of the Stockholm Archipelago. From here you can explore the islands in the Archipelago by boat or take the Subway, Uber or cycle into town. There is a subway station (Bergshamra) that takes you to the city centre in 10 minutes. From the boat to the subway is a 10-15 minute walk. You could also use Uber, that will take you 15 minutes.
In the marina you'll find a floating sauna year round. It's also possible to rent a SUP or a RIB-boat in summer. Next to the marina restaurant Bockholmen serves delicious food in a pretty Swedish villa.

You can also stay at home and enjoy your own private 'chef-on-board'. Linda, our friend and favourite Swedish chef, can provide you with breakfast, snacks, picknick-lunch and dinner during your stay.
The ship will also travel! This summer it will be on the island Moja, one of the furthest (and very beautiful) islands in the Stockholm Archipelago. For us Möja is the secret hideaway you've always wished for: sea, lakes, forest, rocky hills. The ferry takes you from the centre of Stockholm to Möja in a just few hours, a beautiful trip through the more than 30.000 islands of the Archipelago.
Mon 13 May - Fri 14 June 2019 Bockholmen, Stockholm

Mon 17 June - Mon 19 August 2019 Långvik, Möja

Wed 21 August and onwards Bockholmen, Stockholm
AVAILABILITY AND BOOKING
Below you'll find the availability calendar of the Marine Cabin. When you click on your preferred starting date (green = available, red=not available), you'll be directed to a booking form. Here you can change to any language. Payment of your stay is directly upon booking. Minimum stay during the weekends is 3 nights (Friday - Monday), during the week 2 nights (Mon - Wed, Wed-Fri). If you have any questions you can reach us at info@getawaydeluxe.se or +46(0)708203436.