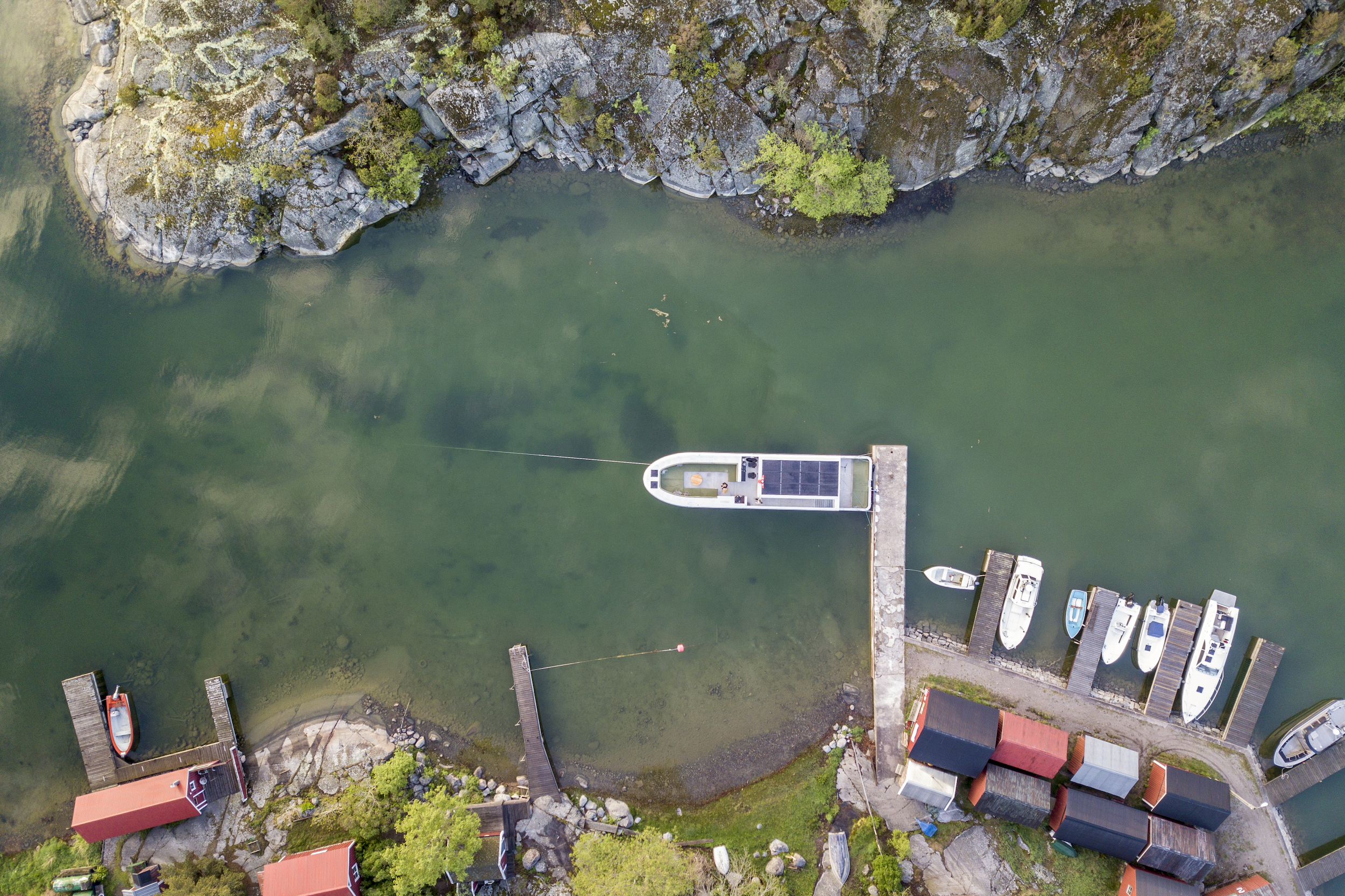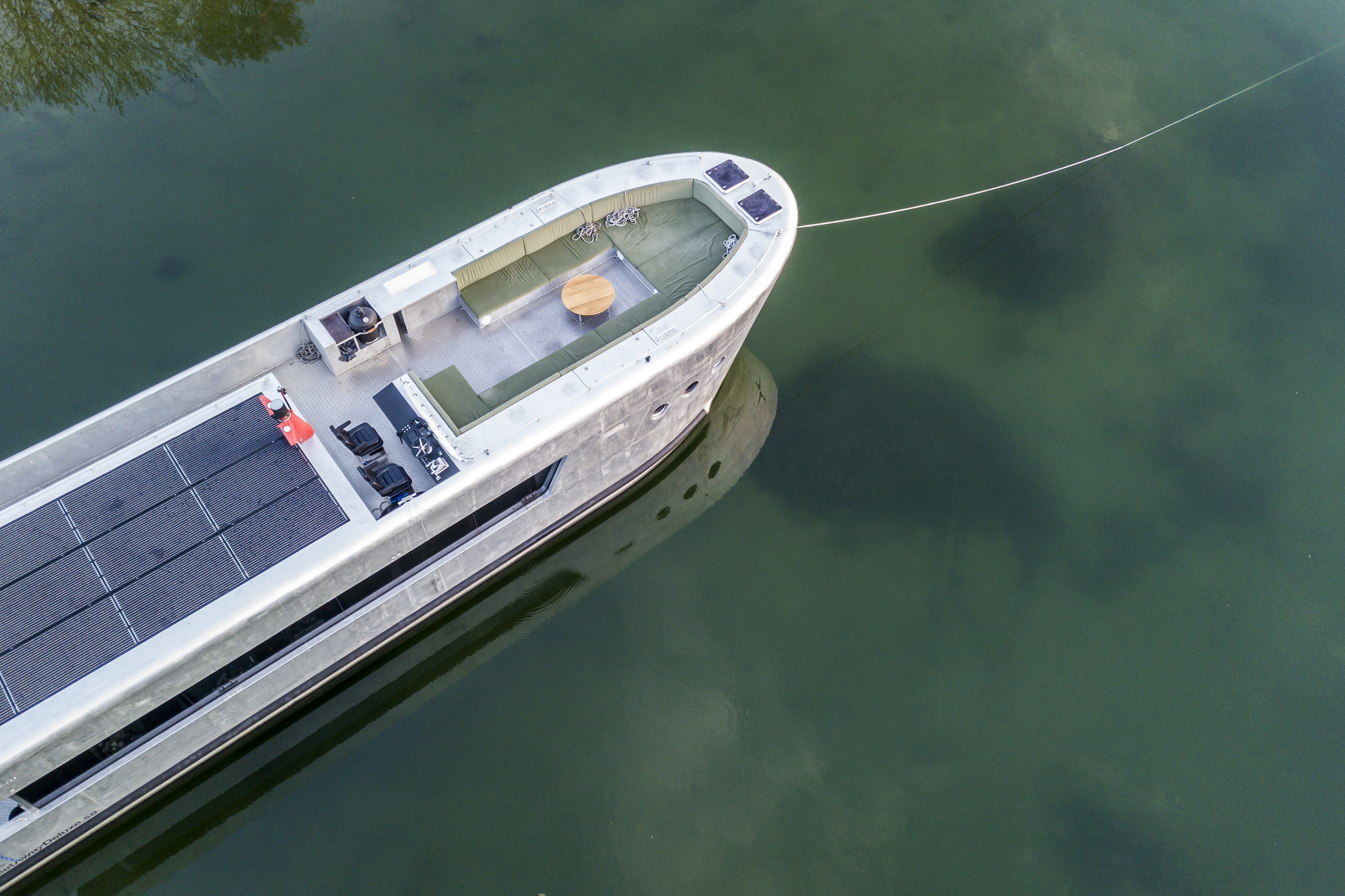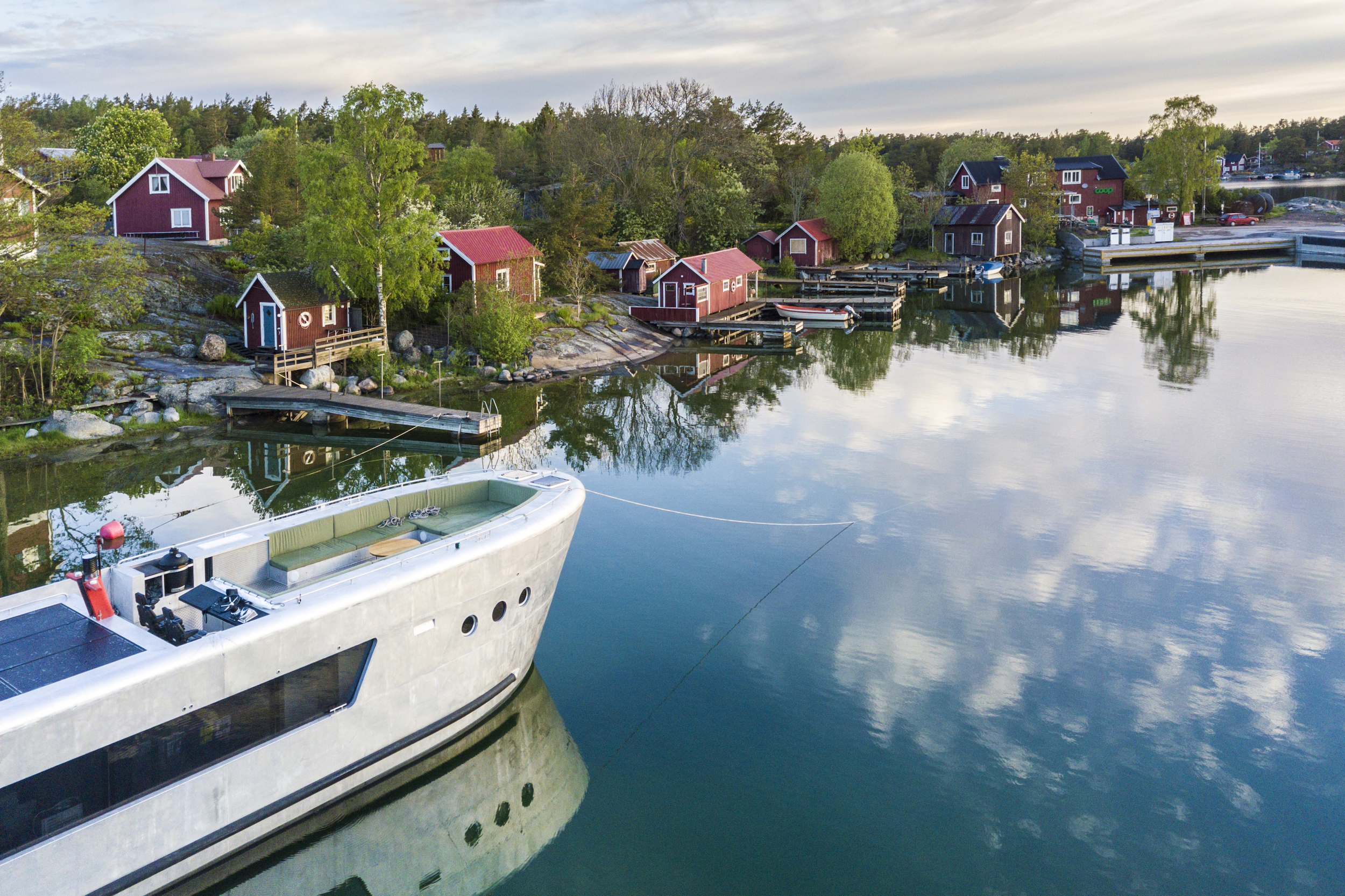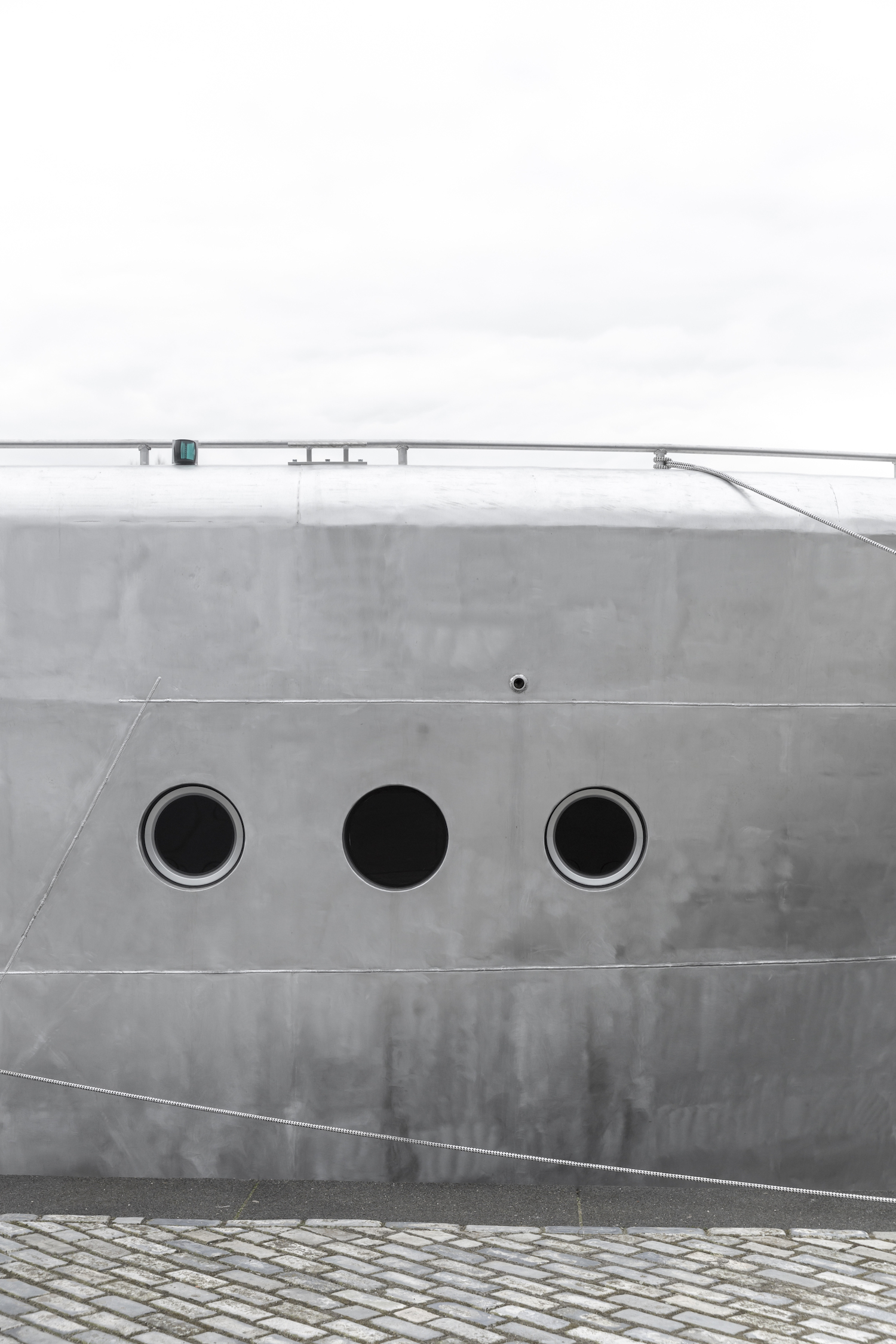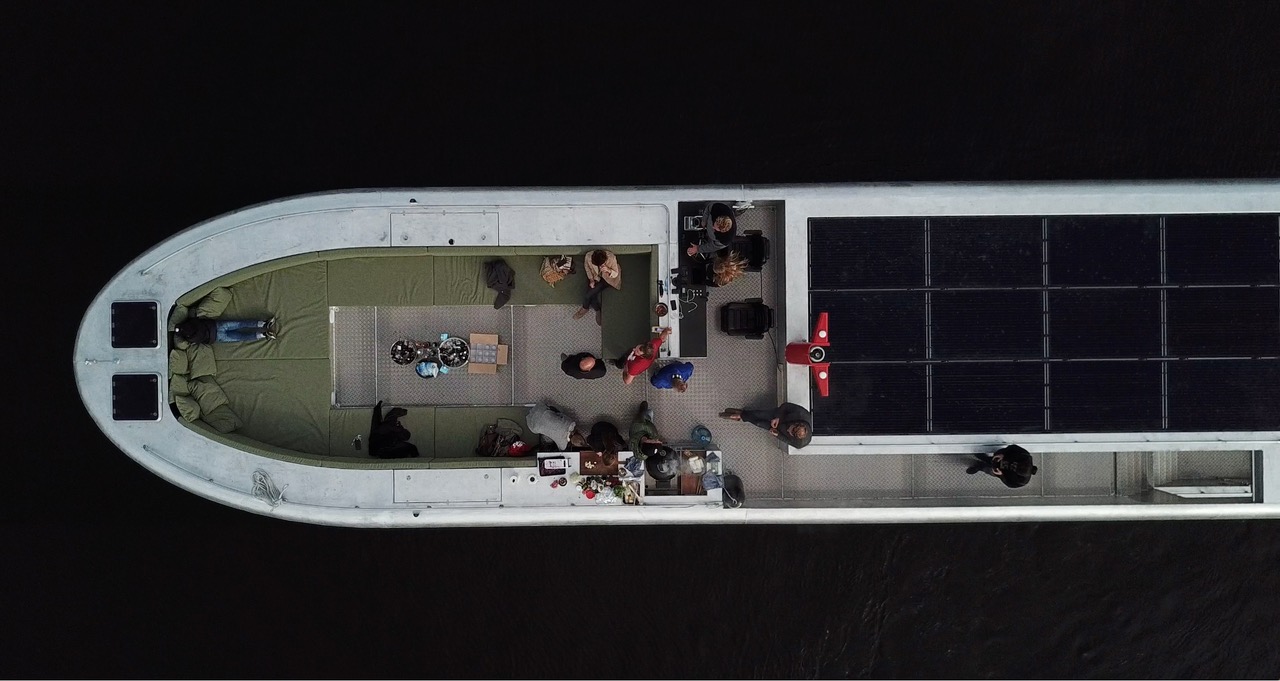 The ship
Before designing and building cabins we also ventured into shipbuilding. 10 years ago we built our first ship (and home) Qrooz. With this ship we won the Dutch Design Award. It was time to make a perfect combination of the cabins and the ship. We just finished building it…our first marine cabin!
The marine cabin has a unique design. A luxurious getaway where you'll feel at home at once. Huge windows provide panoramic views. The full blown kitchen and huge table long for dinner parties. The light swinging of the ship provides for perfect sleeping. And on top of that a unique rooftop terrace on which you can enjoy a lazy afternoon.
spacious aluminium ship, 20m long & 5m wide

as comfortable as a home with all year round accommodation

the cabin has a heat pump for floor heating and warm water, solar panels for electricity and its own wastewater treatment system

60m2 living space, an aft terrace of 20m2 and a 40m2 upper sundeck with a huge lounge area, built-in ceramic egg for outdoor cooking and bluetooth hifi system

fully equipped kitchen with Miele appliances (dishwasher, refrigerator/freezer, oven, induction cooking) and Nespresso-coffeemachine

dining area for 12 people

lounge area with wood burner and blue tooth hifi system

the ship is suitable for 6 people. It has two bedrooms. Each bedroom has a built-in double bed (1.80 wide x 2.00m long) and a large bunkbed (1.90 wide at the broadest part x 2.10 long).

the beds have Emma mattresses and anti-allergic quilts and pillows by Auping

luxurious bathroom with rainshower and delicious LA:BRUKET soap

Note: it is not allowed to drive the ship yourself.
The ship can be rented as a holiday home (see availability and rates below) and also for meetings and dinner parties for up to 12 people. It can also be relocated to your preferred spot. For meetings/dinner parties etc do contact us for an offer.
AVAILABILITY AND BOOKING
Below you'll find the availability calendar of the Marine Cabin. When you click on your preferred starting date (green = available, red=not available), you'll be directed to a booking form. Here you can change to any language. Payment of your stay is directly upon booking. The minimum stay is 2 nights. If you have any questions you can reach us at info@getawaydeluxe.com or +31(0)634843431.
RATES aND INFO
as an introduction to Rotterdam the rental price is 195 Euros per night based on a stay of max. 4 persons. In high season the rental price is 245 Euros per night

if you stay with more than 4 persons you'll pay an extra charge of 15 Euros per person per night for the 5th and 6th person

the minimum stay during the weekends is 2 nights (Friday - Sunday/Monday), during the week 2 nights (Mon - Wed, Wed-Fri) and in high season a week (Fri-Fri)

final cleaning is obligatory and is 67,50 Euros per stay

babies up to 1 years old stay for free. Please bring your own baby cot and bedding for the baby. Note that it is only possible to place a basket or crib on the upper bed, not on the floor

if you bring your dog (max. 1 dog), the extra charge is 25 Euros per stay

tourist tax is 15 euros per night

your stay includes bath- and bedlinnen, firewood, Nespresso cups, tea, basic household supply and delicious LA:BRUKET soap

more information on the marine cabin, high season and the cancellation policy you'll find in INFO.
LOCATION Rotterdam
The ship is moored at a private docking station in the inner harbour 't Boerengat in Rotterdam, right in the centre of Rotterdam.
Location island Moja (Sweden)
'A really cool ship for a sociable and luxurious stay on the sea. All very convenient from start to finish with everything from booking to check in, check out and all the details at the ship. Just stay and enjoy the beautiful Swedish archipelago in style. My friends and I had an amazing stay!' - Roxie, London (UK)
'I can't say enough good things about the Marin Cabin. We stayed a week in this luxury cabin with our family and experienced the impressive nature of Sweden. In the morning we woke up with a dip in the sea, made espresso and visited the local bakery by bike. We wandered through the forest, caught our fish in the nearby lake and spotted deers. We've also explored the Stockholm archipelago; an unforgettable experience because of the unspoilt rugged coastlines and picturesque villages with the characteristic red houses. After a day in the great outdoors, it is very pleasant to return to a luxury residence that already feels like home. Wish we stayed here longer! - Marlies, Amsterdam
'Amazing cabin in a truely lovely and genuine location!' - Ulrich, Hamburg (Germany)
Location Stockholm (Sweden)
'Incredible experience, beautiful, stylish boat. We had the best time!' - Hollie, San Francisco (USA)
'The boat house was amazing! Stylishly decorated and we loved the gigantic and well equipped kitchen and dining area. The host was quick to answer our questions prior and during our stay. Thanks for a 5 star experience!' - Minna, Hong Kong
'Paulien's floating apartment looks more like a stylish Amsterdam apartment than a ship! What a unique and fun experience floating in the archipelago in such a stylish residence. Lovely small touches throughout and a kitchen and dining room that just beg for big dinners with friends - the rooftop lounge is perfect for summer nights. I highly recommend this flat and look forward to returning!' - Daniel, Stockholm (Sweden)
'Absolutely fabulous - very stylish, and feels delightfully off the beaten track despite being only 15 mins from the centre of Stockholm.' - Griffin, London (UK)
'I just came home, it was the most breathtaking place I have ever been on. Seriously! It's just exactly my taste in every way it is built! I loved it so much! - Marco, Stockholm (Sweden)
'We all loved staying on board the marine cabin. The design of the cabin is beautiful. The level of comfort, the spacious bathroom and the exceptionally equipped kitchen mean you forget you are on a boat. It is only when you look up from anywhere in the living space and see the gorgeous water out of the huge windows that you remember where you are. The details were lovely - the fresh flowers, the excellent knives, brilliantly comfy mattresses, the cosy blankets - and made the whole experience a joy. We used the roof all the time. A lovely sheltered space to relax in the sun. The kids loved climbing in and out of the hatches into the cabins. I honestly could have stayed weeks.' - Danielle, London (UK)